Thread to talk about initial thoughts when orders start delivering
mods mods mods and more mods. model kits always need more modifications. gotta customize everything and make it personal.
Dang you are prepped! Only thing you're missing an EXT breakout/proto board. Message me and I'll send you one! I've got too many extras.
Im also wanting to test my RTL-SDR outdoors! It will be amazing!
or the discord. the back looks like it is vented. pretty exciting
I wonder what shipping times will look like? Can anyone who received a GameSHell comment on this?
Mmm. Gameshells were shipped pre covid days, so normal post. But now we live in "a world" things might be different.
I think I got mine from Hong Kong to Australia in under a week. I made a post with all the tracking somewhere. But yeah. Under 7 days, when the world was normal.
i got my gameshell right before they went out of stock on amazon (april 11, 2020), and i recall it taking about a week or two to arrive, but that was amazon so i'd imagine it would take a bit longer to ship
Still… still awaiting tracking confirmation. Just like the rest yall
I finally broke down and caved, and ordered a Devterm.

Since they're still being processed and haven't been shipped I'm hoping my order gets shipped when the others do. I'm still not sure I can justify the purchase, but this is the kind of tech that I've found to be useful for many things even when I don't have a clear idea of what I'm going to use it for going into it.
Also, thanks for the extensive posts about batteries, @qqMajiKpp. It was a LOT to get through, but I read most of the stuff you posted and I did additional research. In the end I got a couple of Sanyo batteries as you mentioned, mostly because I found multiple positive reviews of them, they were rated properly in terms of output, and they seem to be high enough capacity but also fit within the physical limitations of the battery compartment based on measurements. I was tempted to go with a few others (LG or Panasonic), but I wasn't sure if the physical size would work and also wasn't sure if I needed higher capacity anyway (would a few more minutes of potential battery life be worth the risk of them not being usable in the Devterm case? I opted for no.)
For others' sake I kinda do wish ClockworkPi would offer a few suggested options, even if it's with a big bold disclaimer that they can't be held liable for compatibility, death, or dismemberment, etc.

I didn't mind educating myself about the batteries, with your helpful info, but it took a lot of time and I imagine it will turn some folks away. And there's enough danger about mishandling them or using the wrong kind that it would help to have more accessible information than a ton of forum posts that take time to sift through.
Also, I'll happily post here when I receive my shipping info. Hopefully that will be helpful to others who are late to purchase and still considering it.
I was turned away for a long time, myself… It really isnt as scary as all that, but I do recommend study. I know I gave you a lot to go thru and I am glad and impressed to see how much you have learned and how comfortable you seem to feel now. YAY! the Sanys and Panasonics are pretty comparable and are ranked #3, the LGs are #2 and the Sony Muertas (VTC6?) are obviously the clear #1 fan favorite. I stuck with the sanyos cuz i dsont expect to the DT to draw more than 10A.
bump since theyre supposedly shipping this month
I suppose a lot of people already received theirs but I still wanted to share my thoughts after first contact with the Devterm.
I was impressed by the packaging and the assembly really was easy and fun. I hit only one snag where the battery module wouldn't fit because of the solder blob on the antenna - I had to take the antenna out, install battery module first and then place the antenna.
Otherwise all parts are quite precisely formed and nicely fit together, the tolerances are just right and the whole thing when assembled is just cute


On to software - the Raspbian OS on the card booted ok, but the menu panel didn't load. Even after a restart and trying to invoke it manually through terminal it didn't work. Interestingly after downloading and flashing the Raspbian image that is posted here somewhere in the forums the menu showed up on first boot and after that never again. I don't really miss it as planning to use a tiling wm anyway but I found it interesting.
A bit of an unpleasant surprise was that this OS is running on 4.19.127 kernel, I hope eventually a newer one will be available.
Regular latest Raspbian Lite didn't boot so it would be interesting to know how the provided one differs, some extra drivers included?
In terms of usability I would say the keyboard is a bit worse in practice than it looks - I mean it roughly looks like Jornada 720 size but Jornada's for me is certainly easier to type on, still decent though… It's kind of similar story with the trackpad - I would prefer the classic IBM laptop nub, because it takes ages to go across the screen with this one but it works.
The screen is nice though I haven't found a way to adjust brightness yet.
Overall I love it, it's just the right size and looks so cool (to me, my wife would hate it

) I've yet to add batteries and test out the printer.
Btw this was of course written on the Devterm

Just got mine and put it together. It sounds like you installed the antenna on the inside, not outside part of that piece. It should not touch the battery module if on the outside. I would not recommend others deviate from the official construction guide.
This video shows how to do it at the 35 minute mark: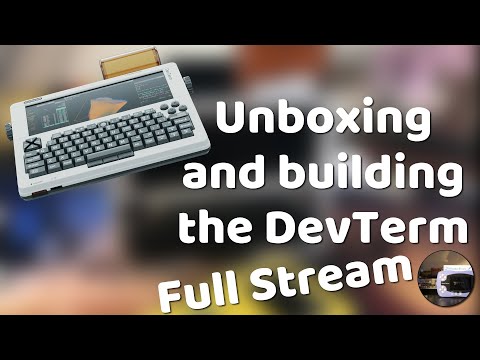 Got mine yesterday. Easy enough to assemble. The industrial design is clever, everything mounts onto a central plate, so the front and back shells are only shells. Looks easily hackable and fixable.
Raspbian booted up with no issues. I got Visual Studio Code installed and configured in a few minutes.
Curious to learn how to enable the fan. I've enabled in Raspberry Pi preferences, but just using the defaults.
With two Panasonic 3400 mAh batteries, looks like battery life when doing basic things is about 5 - 6 hours. At first it seemed like the batteries didn't fit, but I noticed that the battery cover is in fact bulged out, and will fit over batteries that don't fit flush.
I compared it with my 1983 vintage TRS-80 Model 100. The keyboard on the 38 yr old computer is much better. However, the DevTerm does feel like a nice, well-made and compact device. I can see how it will be useful.